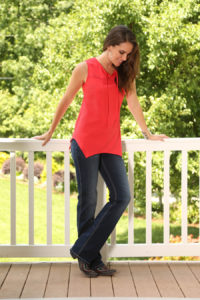 About Us
Since 1921, Burwell, Nebraska has hosted Nebraska's Big Rodeo and is often dubbed "the Outdoor Rodeo Capital of Nebraska." With its long tradition of rodeo and western life style it's only natural Burwell would be home to a full line western wear and tack store – Dry Creek Western Wear.
Dry Creek opened its door in April 1993 and has continued to offer a full line of western wear and tack, serving the needs of a rural community. Owners-managers Jodee Bolli and Karen Spanel agree their number one priority is customer service. "We're expanding and including internet sales and mail order service with our number one priority still being customer service," Jodee says. "We encourage visitors in both the Burwell store and our internet store."
Our Store
Dry Creek Western Wear offers a full line of men's, women's and children's clothing as well as a full line of tack and supplies. Boots and hats line the walls. Jewelry cases are filled with Montana Silversmith and the front of the store is packed with unique western gift ideas. Dry Creek offers a full line of the 'die hard cowboy stuff' – products used and worn by the people who live this life style everyday as well as specialty items.
One of the unique features is the saddle shop in the back of the building. County Line Saddle shop offers a perfect fit. Owners Dale and Peg Prickett can custom make anything out of leather – from chaps to saddles or bridle reins to head stalls.
Western gift ideas
If you visit Burwell during a special event, chances are Dry Creek is involved and probably using a style show to promote their wears – complete with home town models. Many out of state visitors come through their doors. Burwell is home to the Calamus Reservoir, one of Nebraska's top summer recreational spots offering Dry Creek a chance to draw clients from all around the state and nation.
Business hours are 9-6 Monday through Friday and 9-5 on Saturday, with extended hours through the summer and for special events. With our new internet store, you can place your orders anytime. If your needs require a rush package we can accommodate overnight shipping at your costs. As you browse our online store, if you don't find what you are looking for, please feel free to contact us directly. One of our professional sales staff will be happy to answer any questions and also inquiries into special order items.